All photos used with permission of Kyle O'Connor, @RedBarSF, and @OCWatchCompany
Will there be a Red Bar SF at Alcatraz anytime soon?
I joked as Kyle described the value of the rare timepieces he has seen and the importance of security at Red Bar events. "It's possible," he hinted.
Red Bar SF is the San Francisco faction of the elite group of watch enthusiasts that got its start in New York City. The original Red Bar has seen significant success because it does not have an agenda beyond a group of guys and girls coming together for the simple reason of sharing their cool collections. What got its start as just two men at a bar now attracts some of the most fascinating timepieces in the world and, along with those, equally interesting personalities of impassioned collectors like Kyle O'Connor.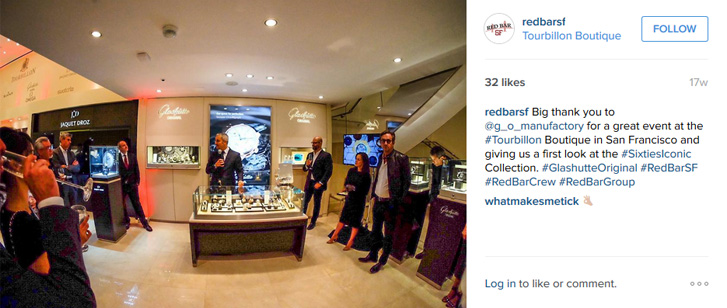 How many watches have passed through your store?
I lost count at a thousand…
Kyle O'Connor is the co-founder of Red Bar SF and owner of OC Watch Company, a pre-owned luxury watch store in Walnut Creek, CA. He recollects an experience at 11 years old that sealed his fate to become a specialist in precision machines. His father took him to a race at Road America in Elkardt Lake, WI and into the pits where he met professional drivers including Mario Andretti, John Andretti, Greg Picket, Danny Sullivan, and Bobby Rahal; and just around that time he received a gift of a Swiss Army Watch which he still has today.
These two experiences defined his two futures; first working as a professional race car mechanic for the Adam Andretti, and now owning a high end watch store. In fact, he still owns, and had in front of him, the Swiss Army Watch during the interview.
Kyle was fascinated with how mechanics worked and soon his watch collection grew. When he was 16 his dad gave him a beloved Raymond Weil, after which he began working and purchased his first Omega Seamaster. He calls the Seamaster his first real watch, and quickly found himself working for an authorized Rolex Dealer. His next two acquisitions were a Breitling Avenger Skyland and a Rolex Submariner that he received at his wedding from his wife; and that's where he loses track.
Any watches that you wouldn't let go of?
That's where the watch store has ruined my watch collecting life
Kyle: The day that ruined my watch collecting life, it was a Breitling solid yellow gold, top prime 1968 purchased in Italy. So, this watch was never worn; someone got it as a gift from their grandparents and put it in a drawer. There was a patina on the case back and it was darker on one side than the other. Papers were dated March 28, 1967 and I thought I never have to sell this watch!
So one day a good friend of mine that was teaching me the ropes of the pre-owned watch world calls me and says he wants to show it to this friend of ours and I tell him he can't sell it. He convinces me because he's my mentor… and two days later he hands me $2,500.00. Even though he more than doubled my money, I LOVED that watch and I owned it for nothing; why would he do that? His next sentence, I'll never forget;
"Kyle, we're not in the business of falling in love with watches; we're in the business of selling watches and making money."
So, I lost my mind and got him back. After not talking for two weeks, I said Get your personal watches ready, I'm selling every single one of them. And I did, every single one he owned, all in three weeks.
He freaked out and told me I can't keep doing that. So, I just told him the same thing; we're not in the business of falling in love with watches, we are in the business of selling watches and making money.
Tell me about Red Bar Crew.
Six years went by and nothing, then one year ago Instagram hit and it blows up everything.
Kyle:  Not 100% accurate,  but how I understand it is that Adam Craniotes (@craniotes) and Dr. Jeffery Jacques got together about 7 years ago at a bar in New York and started talking watches. Then 4-5 guys showed up, then more; a good way for men and women to share the passion. Eventually, manufacturers got interested and hosted events for Red Bar around the country; Breguet, Bremont, IWC, Audemars Piguet, Panerai, Glashutte, Original, and several others. Now, there are many chapters of the Red Bar Group in cities around the country; but still very casual.
Word got out and my customers said I need to start a Red Bar here in the San Francisco Bay Area. OC Watch Company is enough for me to handle, and I said if someone else wants to do it, I'll start it I will start it after the holiday season when things get back to normal at the store. So Christmas 2014 I messaged the godfather Adam Craniotes. I said I'm Kyle from OC Company and my friends and customers want to start one, and before I do, I'd like to get your blessing. Adam messaged back, said "Hey Kyle, nice to meet you. Good idea, Red Bar SF has a great ring to it," and that was it.

How many people showed up to the first one?
5 technically… now we have a consistent 30-50.
Kyle: 5 people technically at the first one; Dean (@ghotihead2001) because he had attended in NYC and knew how it worked, also Bruce Price (@baronrojo_sf) and Rob Sullivan (@sullyfour). And all these events are very private because of how valuable and unique the collections that come in are! You have to be on the email list, and the first rule of Red Bar is you don't talk about Red Bar; there is a very high priority on security with these events.
So, Dean and his wife, myself, and my friends Bruce and Rob met up the next night in Mark Hopkins Hotel at the top of the Mark and we went with it from there. Next one there was 20 people, then 25, then Adam flew out from NY for one and we got 40-50. Then…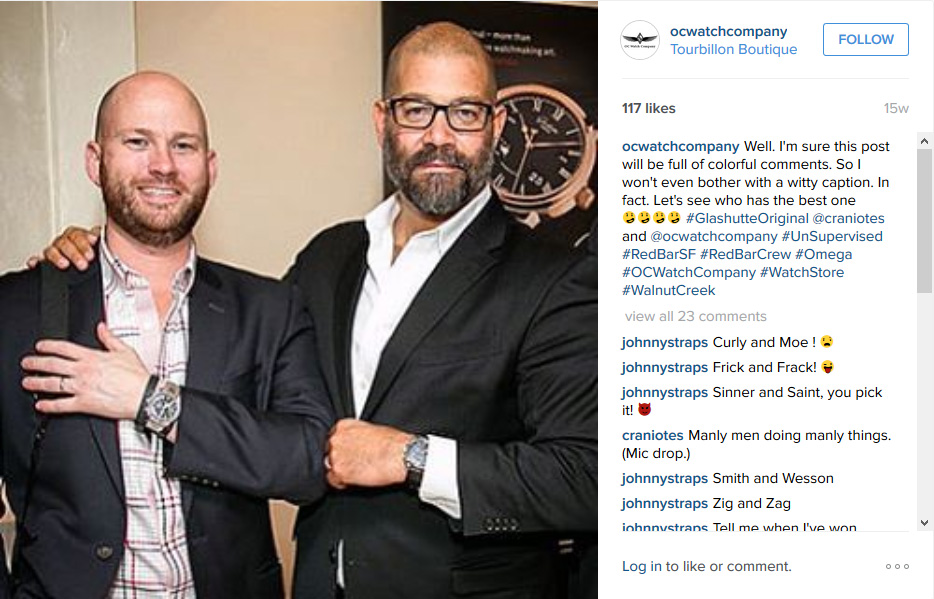 ---
The last thing that Kyle said to me was he doesn't go to sell watches at these events. In fact, he said his customers have yelled at him for not selling them a watch that appeared and then disappeared before they could decide on the purchase. Red Bar SF is dynamic and everyone knows that Kyle just wants to hang out, have a few cocktails and talk watches. It is out of pure passion that he works so hard getting these events together.
The next event is coming up, and while we can't say when or where; we recommend following Red Bar Crew and Red Bar SF on Instagram for the clues.