@MyCustomPuppet's Instagram account is a fantastic collection of fountain pen related content as well as Sesame Street Style puppets that he sketches and makes individually for each customer.
Preferred Pens: Montegrappa Mule, Pilot Falcon, Custom Shawn Newton
Preferred Ink: Platinum Carbon Black
Read below for all "equipment"
watch the Instagram Videos here
Today, Nathan has become a fountain pen addict. His instagram is full of various pens that he discovered to be the perfect tool for his beautiful sketches, calligraphy, and the subjects of his photos. But, behind this passion is a lifetime of incredible artistic achievements.
He has worked at the top film studios in Hollywood with some of the world's best animators, producers, and directors, and so much more. His work is part of some of the most recognizable titles in recent animation history, and an impressive volume of other media that we have all been exposed to at one point or another. However, he was not born into artistic privilege; he sought, discovered, and then worked his way into animation despite incredible challenges.
---
@MyCustomPuppet on Becoming a Hollywood Animator
What do you remember being challenging about finding your passion?
"Right now, you can pull up any reference on YouTube, you can find any film. But, before the internet you had to find a VHS copy! Imagine that when I was young and saw an animation style or technique, I had to track down what it was and where I could find it. I didn't even know what it was called, and that trail is so rare to find on your own. In addition, the community was extremely small. Now, it's so easy to find others all around the world. You can go on Instagram and find forums; but I was the only person in my town. We were living in a small community not too far from San Francisco and you really had to run around, like actually run around, to find anything.
Where did you get your start?
I was in 6th grade and wrote to Charles Shultz (the creator of Peanuts). I only got a form letter back with drawings, but that just kicked me off; it was a one way passion from there. You had to be passionate about it because, with no one else doing this people would easily trail off. What helped me is there was one book that had just come out; the Illusion of Life. It was three or four inches thick and I used to check that out repeatedly and carry it everywhere. This was my school, my courses, my classroom. Now, you can do online schools, then you really had to be into it and disciplined on your own.
Without any realistic options, I directly wrote to Disney and asked what they recommended. They suggested Cal Arts, which was a school they started that had real Disney Animators who would come teach after work! But, I didn't get in; and the only way I found out was by forcing my way into Admissions.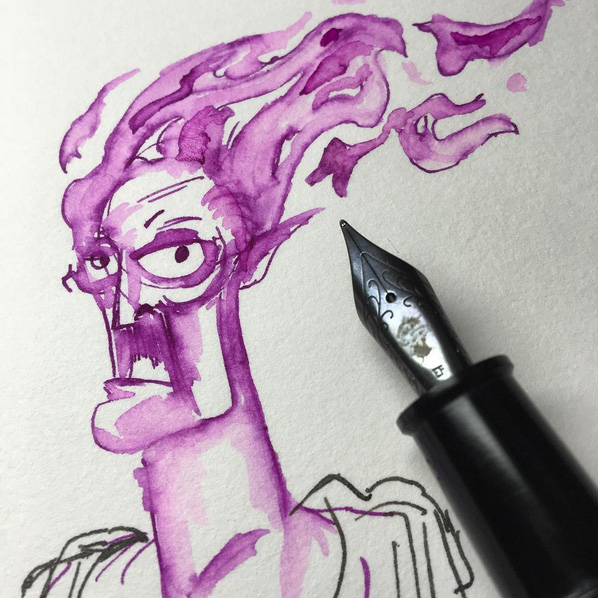 @mycustompuppet
You forced your way into Cal Arts admissions?
Funny story. When I first applied to Cal Arts, my portfolio wasn't up to snuff. I found out by taking a road trip and touring the school. I saw the opportunity and forced my way into admissions where I asked for them to review my portfolio; at this time I didn't know it was going to be turned down. That's where they told me it wasn't going to work, but at least they gave me a second chance.
I re-did the whole thing; I went to zoos and drew the animals! Then, when I re-submitted, they had it for a while and I got nervous so I called in. Turns out they turned it down again… I was blown away! But then, half an hour after, they called back and said I got into Cal Arts! I was excited for a moment, but then just as soon as they said it, I realized it wasn't cheap. It wasn't cheap at the time, and now it's out of hand, but my struggle began right there.
"Now this is going to happen! I'm going to work for Disney!"
I got a part time job as a projectionist for a movie theater and saved everything I could to have funds to concentrate on studies. I was very lucky also for Bob Winquest who ran the animation department. Without Bob, I wouldn't have been able to stay in school because he helped me raise funds, any funds. It was a combination of scholarships and any work, then additional funds we could find. That let me stay in school, and that was only for a year and a half.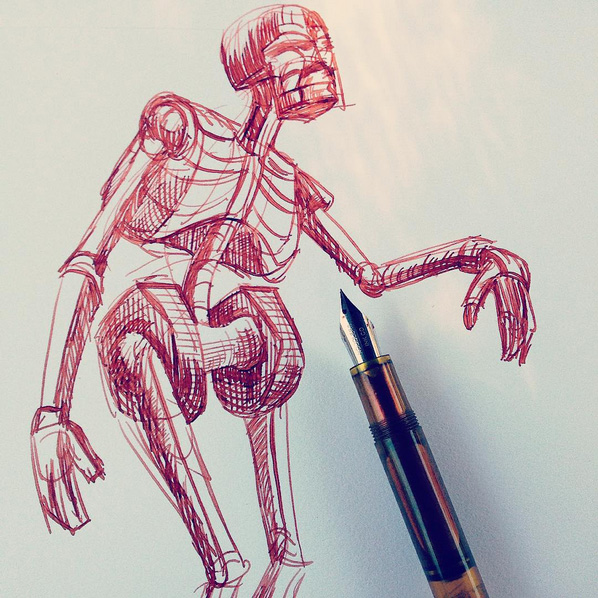 @mycustompuppet
"Back then everything had to be hand-drawn… it took three months for ten seconds."
So many people worked on one scene. One person would do the character, which was a major commitment. They called it Rotoscoping; you traced each character by hand and every cell was painted individually – thousands of them. And, the ink and paint department was something to see, it was amazing. Then, the effects animator did things like water, fire, or pixie dust; anything organic. I remember being on a team of three and my job was pixie dust. I was taking a push pin and pushing holes in black paper to have light shine through it – and luckily the scene wasn't cut; it took three months for ten seconds. You know, when something does get cut, it's devastating.
How did it feel to work for your first movie?
The Little Mermaid happened and all the studios started hiring looking for people just to fill positions. Out of the 90 people in my class only two actually stayed the full four years. After a year and a half I signed onto a movie with a Brooklyn director onto a film that had several people that are major stars today.
You get to work with a ton of talented people and see how they work. The Brooklyn director was unique because he let people be themselves. Everyone was just a crazy personality and a lot of people came from NY with this real loose atmosphere. Lots of goofing off, but it was exciting to work with the guys. Animation was so small and you were going to connect no matter where you went with everyone in the business. After my first internship, the only difference was that the team experience was a whole other level, it was much more professional in feature animation and people had specific jobs.Things aren't as loosey-goosey.
---
@MyCustomPuppet's Fountain Pen Obsession
What's your regular pen and pad?
I never leave home without three pens inside my Nockco case. The case, made out of bright orange canvas, is something I picked up in Atlanta and I think everyone should have one. Today, I have the Montegrappa Mule, a Pilot Metal Falcon, and a Sailor Black Luster. I like to use the falcon for drawing, depending on the nib. And, I just received the Montegrappa Mule and was completely surprised at the quality of the nib, right out of the box it just threw me back. Plus, I love the colors and the way the copper changed after I used it! And the Sailor products are always good. My notebook is a sketchbook by Bee Paper; on one side it's really smooth and amazing for fountain pens, and the back has a texture that I love using flex nibs on then laying down water color. The paper is perfect for it. I also use Tomoe River Paper.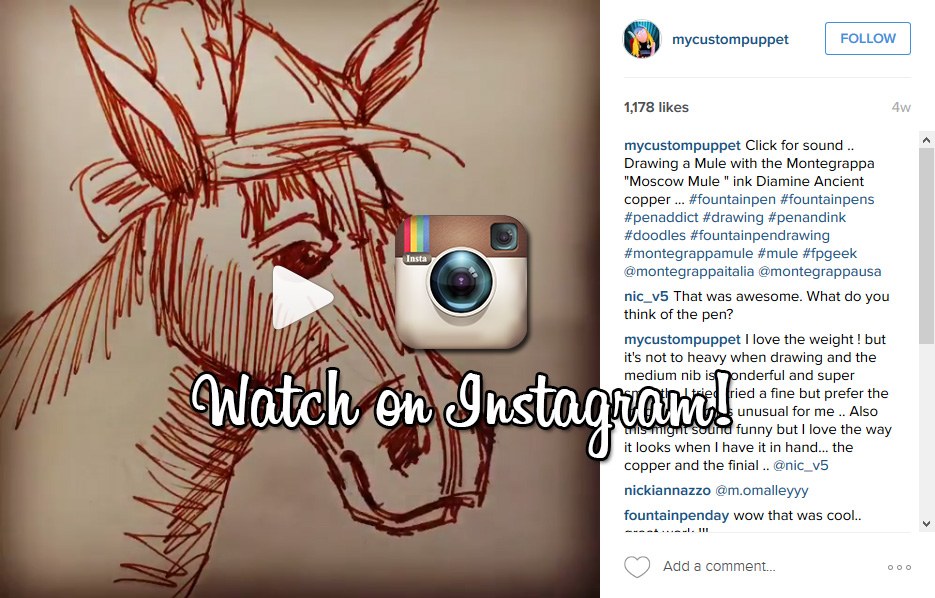 When did you start using fountain pens?
Fountain pens are a new thing for me. In animation and life drawing, in all courses for the past 22 years from 1990 to 2008 or whatever, I didn't see one fountain pen in the industry. But, I discovered them and they blew my mind; there's so much expression that you can get from these pens. Other animators are even just drawing on Wacom tablets, but there is something to be said about a real expressive pen in your arsenal, something analog and not digital.
For me, there's a transfer of intensity in your message; whether in drawing or writing. How much pressure you put to emphasize a word that shows up in a handwritten note. You don't get that from anything else.
"It's wonderful to hear that people can read my writing!"
Another benefit is that I can read my writing. It's crazy because before I never wrote anything but a quick note. When I discovered fountain pens, I discovered my handwriting.
When and for what do you use your pens?
First thing in the morning I go to a coffee shop just to write notes for the day. I'm not trying to accomplish anything, just how to progress and make products better. Then, in the afternoons, I film words for Instagram. It's just anything that's on my mind; "Pulp Fiction," "Hunny Bunny," and it goes crazy, you know? …little things that catch my eye, little subjects. But, I constantly draw, I never stop.
watch the Instagram Videos here
For my puppets, it is easier to work on digital, but I find drawing is so much more satisfying. I just get a couple photos of people I have to make, and I enjoy working analog. I also figure out how to make my drawings better. It comes from passion and discovering that a pen can become more expressive. And, I discover that when I pick up a different pen, it will spark a new idea based on how the pen, the different nib- it's fascinating the direction a pen will take you. I ask, What's hiding in the pen? I try to let the pen decide, go in with an extra fine for the details after a broad nib, I allow the pens to dictate and inspire me.
---
@MyCustomPuppet was an inspiration to speak with. You can just sense the passion in his voice, something that had a the chance to blossom throughout his life. Please check out their Instagram for incredible daily posts, and give him a shout if you came from here!