The company Aurora was created after the signing of the Treaty of Varsailles in 1919 and is one of the oldest and most distinguished pen companies in the world. Based in Torino, Italy, Aurora's pens hold such great heritage that a service has been created to identify and value the state of conservation of any of its pens. In fact, the pens are considered such cult objects that, due to demand, the company created the Museum of Signs and Pens for its famous writing instruments.
---
New for this year, Aurora is releasing the Optima 365 Abissi pen in a limited number of 366; one for each day of this year. The pen is a followup to the widely popular 365 in brown and designed in a classic early 20th century style traditional to the Aurora brand. We are lucky to have received the very first 000/366 completed pen to photograph for your pleasure.
Luxury Advisor is proud to receive the 000 / 366 Abissi to photograph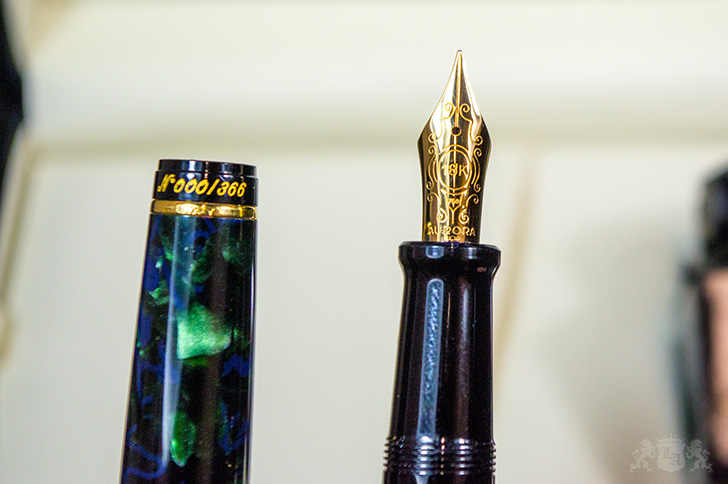 The Aurora Optima 365 Abissi characterizes the romantic elegance of the early 20th century. Each pen is individually inscribed with gold script and has a body decorated with marbled deep azure-blue and aquamarine green Auroloid with deep black in the section and flat end caps. The design is a conservatively modern cylinder that gently tapers at the ends and is decorated with classically curved gold trim reminiscent of a period of celebration and artistic growth.
The Abissi translates to Abyss and among its features is a view into the well of ink inside. The fountain pen is a partial demonstrator with a transparent window just above the section that displays the ink you are using. It uses a piston filler system that feeds ink through a solid gold 18kt nib which offers smoothness and balance famous in Aurora craftsmanship. On the barrel is an imprint that authenticates the pen is made in Italy and the gold band is inscribed with the Aurora logo as well as the classic Greek key pattern.
The Abissi is limited to 366 and the one in the photos is going back to find its home in someone's collection. It arrives in a leather case with a limited edition bottle of ink sealed with wax and gold twine.